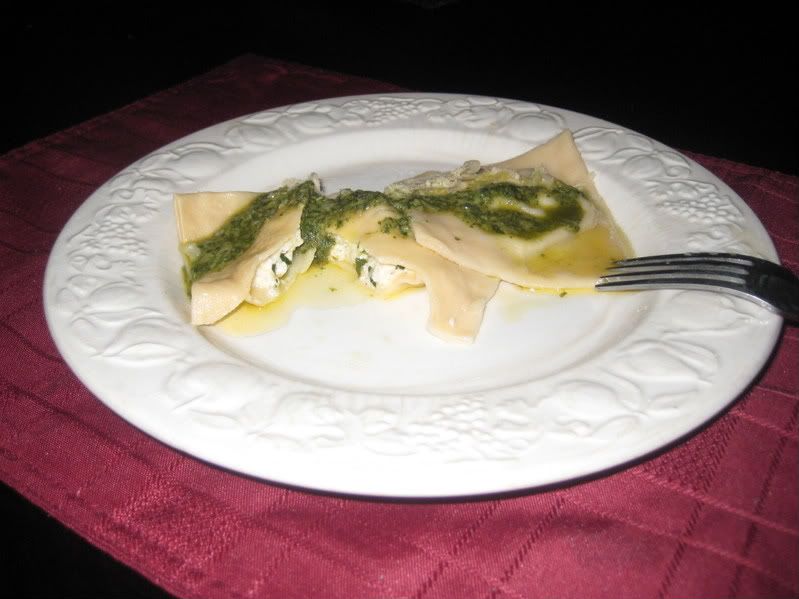 After reading some Jamie
Oliver
books and getting one of
Jamie's
food smashers i decided to put my thinking cap on and experiment with some pasta, i had made some of
Jamie's
pasta recipes and used that as a starting point.
I came up with Drunken Prawn,
Ricotta
and
Parmesan
for the stuffing, i used
Jamie's
simple pasta recipe for the ravioli and his Salsa Verde for the dressing.
Rather than
plagiarise
Jamie's
Oliver,
I'll
just give the reference for the recipes that
I've
blended and a simple google search should
yield
the results that you're after.
For the pasta, search for
Jamie's
quick Pasta. For the making of ravioli, its a simple matter of rolling out some sheets and cutting squares about 10
cm
x 10cm having a food brush and wetting one side of your squares, placing a dollop of your stuffing in the middle and placing another sheet over the top, the water is your glue and after a solid pinch around the sides you should have your first ravioli!
For the dressing, search for
Jamie's
Salsa Verde, i searched a few other recipes and i liked
Jamie's
the best, its got capers and anchovies, and really is damn good, so run with that one, also
don't
be afraid of anchovies, its used as salt and texture
additive
, its ground to a paste and is not meant to encourage a fishy flavour. My girlfriend hates anchovies, so i didn't tell her i had added them till after and she loved it.
For the stuffing, being my own creation
I'm
happy to run through the recipe.
10 large green prawns peeled and
de
-veined, tails off.
one sprig of basil, mint and parsley, roughly chopped. (same herbs as used in the salsa
Verde
)
half a cup of white wine
one cup of
ricotta
cheese
handful
of
Parmesan
, grated.
olive oil.
(should make about 14 raviolis, 4-5 per person is stacks)
All i did here was add some oil to a pan, added the herbs
until
fragrant
, then added the prawns, on a moderate heat, i fried until just opaque and added the white wine, let the alcohol burn off and remove from the heat. I drained the fluid into a mixing bowl and put the prawns onto the chopping board and roughly chopped them up into smallish pieces, i then added them to the fluid in the bowl, added the
ricotta
and
Parmesan
, mixed it up and season to taste.
The stuffing should be reasonably
flavoursome
with the herbs and wine simply complimenting the prawns, the salsa
Verde
is where you'll get your acidity so don't feel you need to add too much salt or lemon or anything else to the stuffing for extra flavour.
Next time i think
I'll
try some
finley
diced
Bocconcini
and omit the
ricotta
as this dish is not supposed to be a copybook recipe, just a source of inspiration so you can experiment yourself.