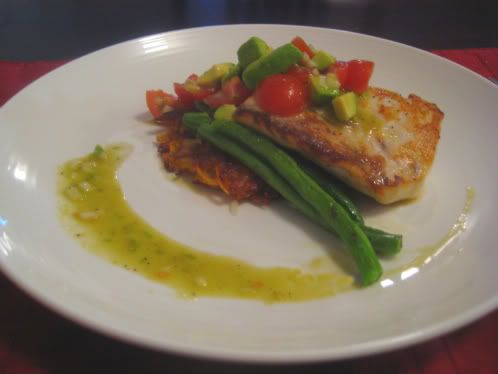 Whenever anyone asks me what they should do with a piece of fish, I generally say, "cook it", or in the case of some fish, especially kingsfish, the answer might be "keep some cool, raw, thinly sliced, and dip in soy and wasabi", anyway, the rule here that I have learnt to follow with fresh seafood is to preserve the flavour of the fish, and I find the best method is to cook the fish on its own and serve accompaniments that compliment the fish's flavour.
This is probably one of my favourite ways to eat kingfish or any other gamey type fish and I like to think of it as being a fancy "fish and chips with lemon" as it still embodies all those characters.
For the fish, when filleting I portion the fillet into single serves, removing any red/blood, and keep the steaks nice and thick, this allows you to keep them nice and juicy. Using a hot pan, a bit of olive oil, season the fish, and sear on one side until you see the white start to travel up the side of the fillet, then turn, remove from the heat once there is just a little bit of opaque in the middle of the fillet and place in a warm dish and put aside in a warm oven, the residual heat from the fish will continue to gently cook it through, leaving it really juicy inside.
For the Rosti, grate one potato(I like golden delight as they give a delicious crunch) to one equally sized sweet potato, half a diced spring onion, one egg (perhaps two depending of how much you make or how wet/dry the mixture is) season well and combine, using your hands, put hand fulls into a pan covered in canola oil or veg oil and fry until golden on both sides, place in the oven paper towels and some extra salt to both absorb the oil and to continue cooking them inside.
Now for the salsa, this is so simple its not funny, finely dice the other half of your spring onion, a handful of grape tomato's, half an avocado. The zest of a lime and the juice from half of it, salt and pepper and a good lug of olive oil so it's nice and wet, put aside so the avocado and lime 'flavours' the oil, this will make for a delicious zesty drizzle for the plate.
Its that simple and best of all showcases the individual flavours of your ingredients.