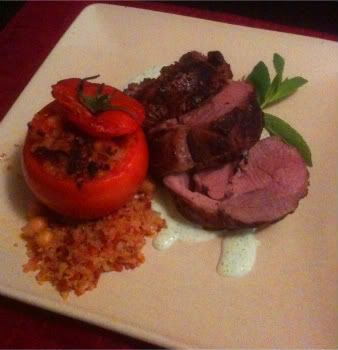 All I can say is that I was pretty chuffed with this little idea of mine, juicy cumin flavoured lamb with the cool mint sauce followed up with the surprisingly tender tomato flesh with savoury chorizo stuffing, the Quinoa (http://en.wikipedia.org/wiki/Quinoa)which is a super food on its own with numerous nutritional benefits has a light fluffy texture with a nutty flavour and was a perfect accompaniment.
As usual, these are just ideas thrown together on a plate, so I'll run through the bits a pieces and you can use it for your own wacky plans.
For the lamb rump, I trimmed all the suet, even if t meant doing some deep tissue surgery and made a rub of oven toasted cumin seed, coriander seed, black peppercorns and some salt. Grind it into a powder and rub it over the meat, roll the rump and tie it up. Brown in a fry pan on all sides and place in the oven on a baking tray at about 150 (there's some sinew that needs to be broken down) until nice and pink.
For the stuffing, mince one chorizo and add to a pan with a diced shallot, one minced garlic clove, about half a cup of chickpeas (cooked) and half a cup of cooked quinoa (cooked as per packet directions), fry off until chorizo is cooked and all moisture has been absorbed, add pepper to taste and juice of half a lemon. Spoon into gutted tomatoes and place in the oven with the lamb. When you bring the lamb out to rest, fire the oven up to get some colour on the tomatoes.
Mint sauce is the easiest, I put a garlic clove with skin on in the oven with the lamb on the tray, when its coloured and soft, remove it and peel of the skin, chop and place in a bowl with a handful of torn mint leaves, 3 or so tablespoons of natural yoghurt some pepper, and whiz it up with a stick blender. Yum.
So that's it, experiment and have fun. Stuffed anything is sure to impress guests and it makes a great side to serve up on a platter at a BBQ.