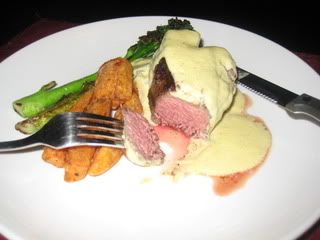 This was a lunch a couple of weeks back that I thought would be a great way to show off just how easy a splash of Bearnaise sauce is to make. Be warned though, do not let your guest watch as the amount of butter used will scare them back to their personal trainers.
I used piece of eye fillet and cooked it as per usual (see steak section) accompanied with some brocollini, pan seared then removed from the heat and covered to allow it to steam through and some sweet potato wedges (recipe coming as they are a whole other[tasty] beast).
So, for the Bearnaise, I know this scares some people (cause it used to scare me) but i have devised an almost foolproof method.
you will need, for four people;
one egg yolk
half a stick of butter (bout 180 grams and don't even think of using margarine)
tablespoon of dried or fresh tarragon(the heart of Bearnaise)
Minced- one clove of garlic and one white section of shallot
about half a cup of white wine vinegar
two tablespoons of hot water
salt and pepper to taste
In a pot, add the Vinegar, tarragon, garlic/shallot, reduce by two thirds, pour into a glass bowl, now you want your glass bowl to fin neatly into the top of the pot to act as a double boiler, fill enough water into the pot so that it is touching and well covering the bottom of the bowl, bring the water to the boil and turn the heat off.
put your butter into a pan and heat it until it foams and is liquefied, remove from heat.
Put the bowl with the vinegar reduction on the pot with the water so the water in the pot starts heating the glass bowl, add your egg yolk and using a stick blender on low, whizz the mixture, while you are doing this, in one slow continuous dribble, pour the melted butter into the whizzing mixture, it will begin to emulsify, and the amount of butter is proportional to the level of thickness with not much butter being thin. If your sauce doesn't seem thick enough, melt more butter in the microwave and continue pouring. Once desired consistency is achieved, serve immediately.
whilst it sounds like a complex procedure, it really is easy to do while your meat is resting in the oven and takes all of about five minutes.