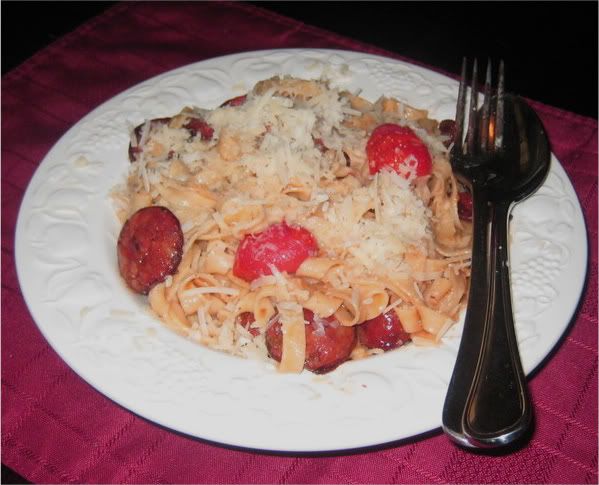 Another quick, simple and tasty pasta dish, and a regular for me.
Once again, prepare the ingredients before you start to cook. I normally start boiling my pasta water whilst preparing.
Raw Chorizo sausage (half a sausage per person, sliced)
Fettuccine (i go about one loose handful per person)
one small handfull of cherry/grape tomato per person
one clove of garlic (smashed and minced over salt)
one large shallot (finely sliced)
one small red chili (De-seeded and finely sliced)
red wine vinegar
white wine
fresh cracked black pepper
Once the water is boiling, add your pasta, add oil to your fry pan cold (I have of late also been adding my ingredients cold, and letting the temp come up, i find it infuses the oil flavour with the foods better), turn on the heat and add all ingredients except the liquids. Toss the pan regularly and once the skins of the tomato's have split, add a good splash of the vinegar and about half a cup of wine. Let it boil off adding about a 1/3 of a cup of the boiling cloudy pasta water, this aids as a thickener and will make your sauce. Once adequately reduced, turn off the fry pan and wait for the pasta to be ready. Drain pasta and add to the fry pan, toss to coat all the pasta, serve with some Parmesan and some sharp cold wine, sav blanc or a crisp rose.
I have done this with variations such as prawns instead of sausage, and with angel hair pasta, it was divine.