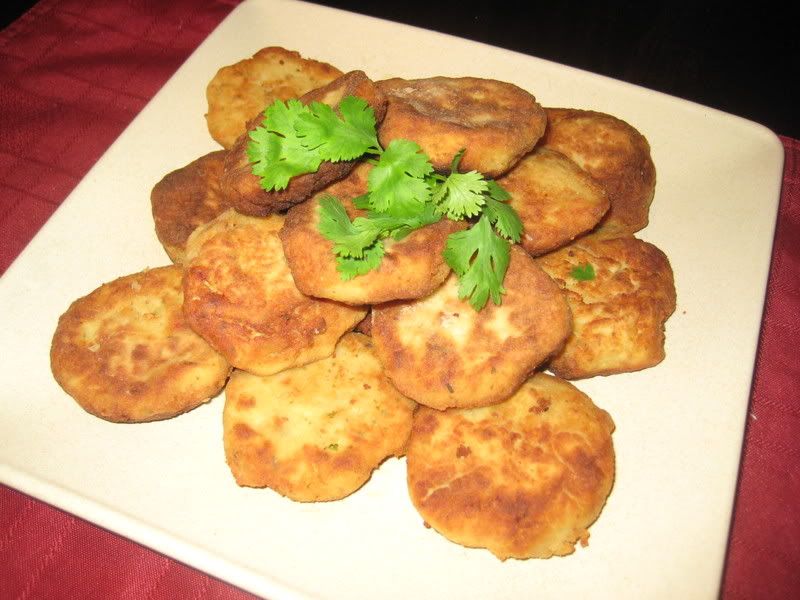 Having speared an Aussie Salmon, these fish aren't really renowned for their eating qualities, mainly because they can be a bit plain and the flesh can dry out. That being said, the flesh is also very white with big chunky flakes, perfect for fish cakes.
What you'll need;
about 600g of cleaned fish flesh
3 cloves of garlic
thumb of ginger (peeled/sliced)
2 eggs
one whole red chili (depending on taste)
Bunch of coriander (add as much or as little as you like)
rind and juice if one lime
3 sliced shallots
splash of fish sauce
one small potato
bread crumbs
flour
vegetable oil and a bit of sesame oil
Before you do anything, peel and dice your small potato, put in a microwave safe bowl with some hot water, into the microwave for 5 minutes or until tender.
Clean up the fillet, removing any bones, and any red/blooded meat, and dice into 3cm chunks, pulse in your food processor so as to mince, being very careful not to puree, put the fish mince into a large mixing bowl. Into food processor put the eggs, garlic, ginger, chili, shallot, coriander, lime rind/juice and fish sauce, blend on high until all is well mixed/blended. Add the drained potato and process quickly to combine. Add mixture to the fish and mix well with a spoon, add breadcrumbs if mixture is too wet, you want it to be a manageable texture so you can roll patties with your hands and they stay together then dust them in a plate of flour. Lay out all of your patties on a plate, and let them rest for about 10 minutes before shallow frying in vegetable oil with a bit of sesame oil for extra flavour. Fry until golden brown. Serve with a choice of condiments, sweet chili, sweet and sour etc. Great for when you have mates coming round for arvo beers, they are also equally nice cold, right out of the fridge, for something to much on when you stumble in the door at the small hours of the morning!