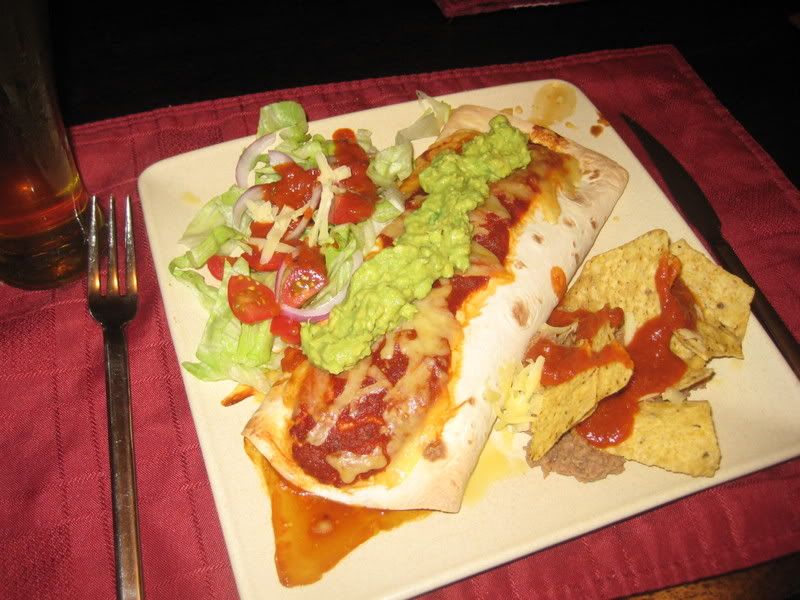 No its not the name of a Latin late night massage parlour, this is my recipe for pulled beef, the type you might use to make burritos, as pictured, or nachos, or tacos.
I know its not as gourmet as some of the other pictures i like to flash around, but damned its nice to have a pot of this stuff in the fridge.
What i use;
about a kilo of topside beef, i get it in roast form, its cheaper and i cut it into steaks, always cutting across the grain and trim all fat.
two large onions
one Jalapeno and one large red chili
Coriander
4 cloves of garlic
Smoked paprika
Tomato paste
Cut the steaks up into manageable pieces and brown on both sides, season the meat also. remove from the pan and place in a pot with enough hot water to cover all the meat and then some more. Bring to the boil, then simmer. Place the Onions, garlic and chillies into the food processor and buzz until you have a nice puree, with a bit of olive oil, fry this off in a pan until it becomes fragrant and starts to brown, add this to the pot, I add some tomato paste here to give both colour and sweetness, about a tablespoon does the trick, then just simmer for about an hour or so or until the meat easily breaks apart, adding paprika and cayenne pepper as you go, depending on tastes, keep an eye on it so as to not dry up the water, topping up when necessary. To shred the beef, remove from the pot and place on a chopping board, using two forks opposing each other, use one to hold the piece of meat and use the other to tear shreds off it, return the shredded beef to the pot and add some kidney beans and or re-fried beans. Place in the oven to evaporate any residual moisture that might make it too sloppy. Then serve however you want!!